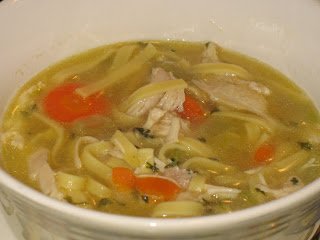 Chicken Noodle Soup
Prep Time

5 min

Cook Time

10 min

Total Time

15 min
Getting Started
What You'll Need
1 ½ -2 quarts chicken stock
(Use the stock from the Barbeque Chicken Slider recipe)
Skim some of the fat off the top of the cold broth, reserve for later use
Add 2 cans (14oz) of chicken broth to make 2 qt's if needed
Or use 2 quarts store bought chicken broth
Method
Preparing the spices
1
Pluck and pull all feathers and pins from the young hen…
JUST KIDDING!
2
Add; 2 stalks celery sliced into bite size pieces and some of the light green leaves, 2-3 carrots peeled and sliced into bite size pieces.
4
2 tablespoons of fresh chopped parsley or 1 tablespoon dried
6
Add a tablespoon or two of the reserved chicken fat for flavor (secret ingredient)
Skip if keeping it low calorie
7
Let simmer for 12-15 minutes
8
Turn heat to medium-high and add 2 cups of your favorite egg noodles
Cook for 8-10 minutes or till noodles begin to tender
9
Add the cooked chicken and simmer for 8-10 minutes longer
(Remember the chicken is already cooked you just need to heat it through and let flavor up)
10
If using other chicken such as rotisserie the same applies
Tip: If using fresh chicken (do this first) chop 4 chicken breasts into bit size pieces and cook in medium size skillet in 3-4 tablespoons olive oil till done, 12-15 minutes, salt and pepper while cooking. Drain on a paper towel and add to soup in step 3
Double if more is needed
Serve with some fresh baked bread and a side salad or
White Cheddar Cheese slices and whole grain crackers are great with this soup!
This is my daughters favorite soup…she has often mentioned when she calls (now that she is all grown up) how much she would appreciate a bowl of my chicken noodle soup! Remembering how good it was to sit down at the supper table and ENJOY!